Kamlesh Nanasaheb Ghumare, aka "Jugadu Kamlesh", hope you all heard his name. A boy from Malegaon, Maharashtra came up with an idea in Shark Tank India which will help small & marginal farmers in many ways and also ease the work of farmers.
He and his partner Naru made an innovative product with multipurpose use like helping spray pesticides, dropping seeds, and carrying luggage.
What was Jugaadu Kamlesh's idea | Jugadu Kamlesh Product
Kamlesh created a unique pesticide trolley spray. Farmers spray pesticides or drop seeds by lifting the sprayer tank on their shoulders, which is a very tough task to do and is time-consuming too. These pesticides also cause diseases when they go into our mouths and eyes. His father also had the disease.
In order to solve this problem of his father and several other farmers like him, Kamlesh designed a trolley spray, where the sprayer tank can be placed and the trolley can be moved very easily without giving much effort and it saves time too.
After this innovation Jugadu Kamlesh net worth is around $ 1Million or 10 Lakhs.
Read More:
Jugadu Kamlesh in Shark Tank | KG Agrotech in Shark Tank
Jugadu Kamlesh( founder of K G Agrotech) was featured in shark tank India season 1 episode 23. He shared his idea with the shark and told them his story of making this product and how he reached there. All the shark was very impressed with his idea and the energy that he showed in the show.
He has demanded 30 lahk in exchange for a 10% share of Jugadu Kamlesh company in Shark Tank India.
Ghazal Alagh: "Aapne loan lene ki koshish kyu nahi ki kabhi?"
Kamlesh Jugadu: "Loan Dega kaun?"
Peyush Bansal: "Mai dunga. Aap Bharat ki umeed ho. Aapko support kisi ne nahi kiya par mai karunga." and Peyush Bansal (Lenskart CEO) offered 10 lakh for 40% equity and a 20 lakh loan at 0% interest.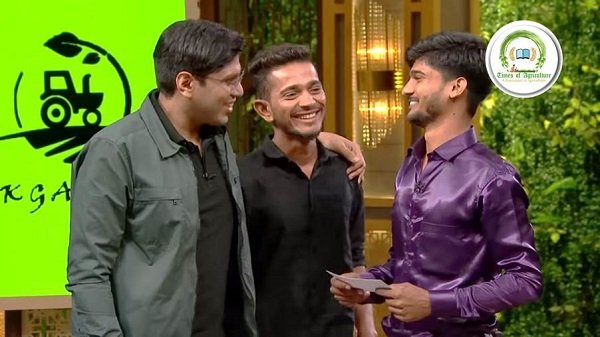 Kamlesh vision on doing a job instead of doing this.
In the shark tank, he was asked why didn't he go for a job ?
He replied, "If I do a job then I will be someone's slave for 24 hours, and we are farmers, we don't want to be someone's slave".
Kamlesh wants to help millions of farmers with his innovative technologies, he still works on many innovative tools which can save farmers time and help to increase their income.
Details of the company KG Agrotech Products
| | |
| --- | --- |
| Jugadu Kamlesh Company Name | KG AGROTECH |
| Product Name | BHARAT K2 |
| HEADQUARTER | MALEGAON, MAHARSHTRA |
| NO. OF EMPLOYES | < 10 |
| FOUNDER | KAMLESH NANASAHEB GHUMARE (Jugaadu Kamlesh) |
| ASKED FOR | 30 lakh for 10% Equity |
| FUNDING | 10 lakh for 40% Equity + 20 Lakh Loan at 0% Interest |
| SHARK | PEYUSH BANSAL |
| KG Agrotech NET WORTH | 25 LAKH |
| BHARAT K2 PRICE | Rs. 12000 |
| KG Agrotech Sales | The product is about to lauch |
| KG Agrotech revenue | First year target is around Rs 5 cr. |
Read More:
Jugadu Kamlesh now | Bharat K2 kg agrotech
Jugaadu Kamlesh now ready with his upgraded product, which he named Bharat K2. The first batch will be on the ground within 60 days. He shows his upgraded model to investor Peyush Bansal, who had invested in Kamlesh's product last season.
Kamlesh and his team presented the new model, which is more practical, convenient, and advanced in technology. It is now electrical too which is more convenient than the earlier model. KG Agrotech's 1st-year target is around Rs 5 crore.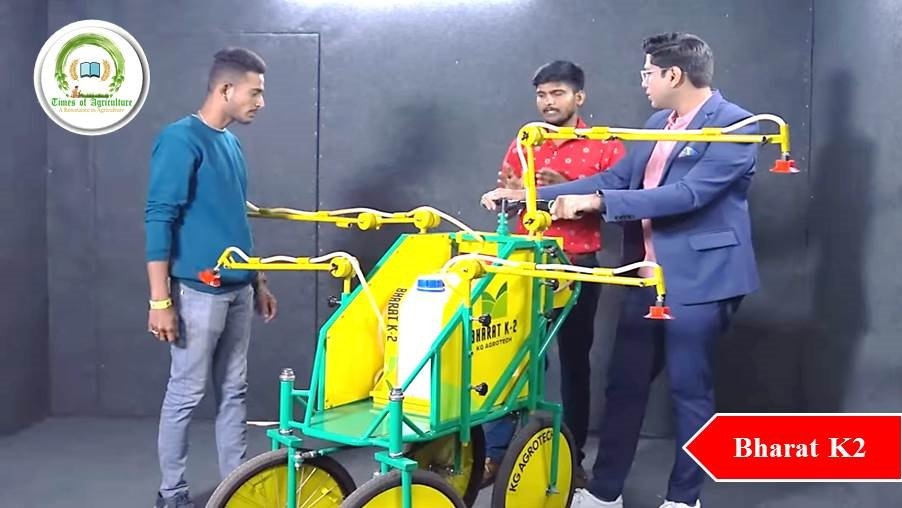 Features of Bharat K2 KG Agrotech product –
Bharat K2 KG Agrotech
It is a multipurpose trolley that helps in spraying pesticides, seeding, and carrying luggage.
It is affordable for small marginal farmers.
It saves time for the farmers and makes their work easy.
Bharat K2 is electric.
KG Agrotech owner | Journey of Jugadu Kamlesh
The founder of KG Agrotech is Kamlesh Nanasaheb Ghumare. He called himself as jugadu Kamlesh as he made this product by collecting the material through Jugaad. This product was created by himself. A village boy who has solved the problems of many farmers, he had to struggle a lot to solve it. Without having any professional degree he created this trolley. He started making this product in 2014. He kept on experimenting and improving the product, and after 7 years of determination and hard work, he finally found an opportunity to present it at the shark tank.
Contact details
Read More:
Conclusion
New innovation is happening in every village in India, many new startups are coming from the village. It is a good thing that lots of new startups are happening in India which solve the problem of farmers. Kamlesh's KG Agrotech is one of the new innovations which help farmers in many ways. He appeared on season 1 of Shark Tank India and became an internet celebrity for his humility and passion for his work. Now his startup is a pvt ltd firm.
Latest Post….