Stuck between the passion for gardening and not having enough space? The solution is Terrace Garden!
No matter where you live or how much space you own, Terrace Garden Ideas are the best way to keep your passion and need for gardening without worrying about the space and maintenance.
For some, gardening is hobby and for others it might be a need. Especially the people residing in heavily populated urban areas are the ones who prefer small kitchen gardens or flower gardens to soak up their leisure time and satisfy the need for fresh veggies, herbs and spices. But they are unable to do so due to lack of space and idea and here Terrace Garden Ideas will be a boon for them.
Read More:
Terrace Garden Ideas and Guide
Here in this article, we have gathered some of the best terrace gardening ideas for home to suit your needs and availabilities.
1. Make it spacious
It works well for those who love to be surrounded by the nature but not smothered. Keep it spacious and open. One can use glass railings and fences to make it look bigger and decorate smaller plants and herbs for a natural touch. This type of terrace garden idea will come handy for those having smaller rooftops.
As it will be open and sun will grace this garden for longer span therefore some of the suggestion for choosing plants for this type of garden terrace design is Lavender, Sweet Alyssum, Hibiscus, Mandevilla, Heuchera, etc.
2. Keeping your privacy
For those owning open or exposed rooftops and wanting to maintain their privacy in their terrace garden can make use of climbers and taller plants. If there are railings then climbers would be an excellent choice and potted bamboo and grasses can be used in place of railings.
3. Create diversity
While designing your terrace garden make sure to create some diversity in the size and types of plants. There might be circumstances when parts of your rooftop garden ideas India receive sunlight and there maybe be other parts left with shade. For such uneven distribution ensure growing plants of the types which are sun loving along with the ones which thrive best in shade.
Apart from this there may be variation in spaces available on a single terrace ideas itself. So to suit these, one might keep in mind to use plants of variable sizes to utilize the available space.
4. Addition of Furniture
When designing your terrace garden also decide what you want to do there, dine, relax, work or study. Deciding this will help in selection of furniture for the terrace garden.
5. Centre of Attention
One can make use of a statue, mini water fall setup, tall tree, fountain or an outstanding arrangement of potted plants to make a centre of attention of the whole garden.
6. Lighting Setup
After a tiring day at work and winding up the house chores one would love to relax in their terrace garden under the starry night sky but stars won't be enough to light up your garden and also getting a hold of stars in the urban sky is quite rare. Therefore to enjoy a beautiful evening, lights according to the mood and needs are to be set up in the terrace garden.
7. Selection of Colours
Selecting colours are also important to enhance and accentuate the beauty of your garden. Try to use less number of colour shades for the walls, railings, furniture, pots or floor to keep the natural beauty of the garden. Ensure the selection of an accent shade and one or two more shades to compliment it, not more than that. Using too much colour will make it look messed and busy.
8. Using the Walls
The adjacent walls can be used to grow climbers by using hanging type planters, baskets, boxes, pots and shelves. This will maximize the space and utilize the areas that are generally not used for planting or terrace gardening ideas. 
9. Floor Design
Don't forget about the floor. Choose the type that is compatible with your budget, the climate you live and suits your terrace garden theme.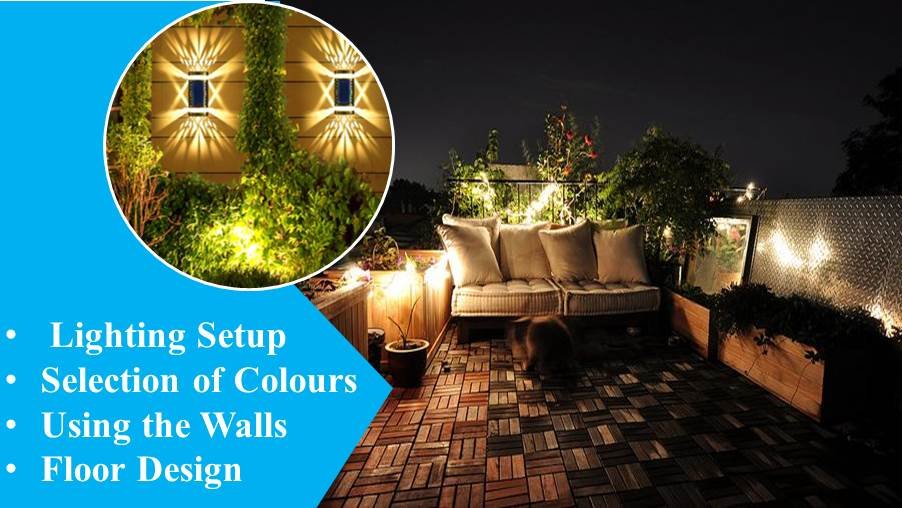 10. Become Self Sufficient
The roof is a great place to grow your choice of fruits, vegetables, herbs and salads. Become self sufficient and easily grow your own food.
11. Get Creative with Your Terrace Garden
Turn your terrace garden into an open movie theatre, weekend party lounge, family party place, or anything according to your needs by arrangement of required accessories and furniture.
terrace garden design
Terrace Garden Plants
The plants which are a wise choice to be considered in a terrace garden are listed below:
| | |
| --- | --- |
| Category of plants | Suggestion of plants for Terrace Garden |
| Terrace Garden Herbs | Rosemary, Thyme, Sage, Mint, Lemongrass. |
| Terrace Garden Flowers | Marigold, Begonias, Rose, Bougainvillea, Jasmine, Petunia, Pansy, Clematis, Lobelia, Lavender. |
| Terrace Garden Vegetables | Cucumber, Okra, Eggplants, Chillies, Tomatoes. |
| Terrace Garden Trees and shrubs | Papaya, Guava, Lemon, Pomegranate, Bonsai trees. |
| Terrace Garden Succulents and cacti | Agave, Aloe Vera, Euphorbia, Lithops, Sedum, Opuntia, Ferocactus, Mammillaria. |
Cost of Construction and Maintenance
Given below is a rough estimation of the terrace garden setup cost of constructing and maintaining a terrace garden design of about 500 sq feet.
| | |
| --- | --- |
| Items | Cost |
| Water proofing the terrace | ₹ 5,000 – 8,000 |
| Insulation layer | ₹ 3,000 – 6,000 |
| Drainage system | ₹ 4,000 – 5,000 |
| Potting soil | ₹ 6,000 – 8,000 |
| Gardening tools | ₹ 3,000 – 4,000 |
| Pots and containers | ₹ 4,500 – 7,000 |
| Seeds and seedlings | ₹ 2,000 – 4,000 |
| Watering systems | ₹ 3,000 – 5,000 |
| Fertilizers, manures and pesticides | ₹ 2,000 – 3,000 |
| Furniture and accessories | ₹ 10,000 – 12,000 |
| Installation charges | ₹ 3,000 – 5,000 |
Read More:
terrace garden design
Conclusion
Terrace gardens are the best way of utilizing the rooftops for various purposes. This is a great choice for those struggling with less space and wanting to have a garden. The costs of construction and maintenance may vary with the size and requirements of the terrace. Once created successfully it continues to serve its purpose with proper maintenance.
Read More…