Bharat Agri Startup – India is an agrarian country with most of the farmers being small scale and marginal farmers. Agriculture in India is mainly climate dependent and input driven which are key players for the augmenting the yield and revenue of farmers. In the current scenario of artificial intelligence driving many fields, agriculture is one such arena with huge scope for its application which resulted in introducing AI to agriculture applications. This has resulted in evolvement of many Agri-based startup and companies providing targeted solutions to farmers. But the huge demand for digital services and several lacunae still being existing which provided the scope for establishment of flat-form like Bharat-Agri.
About Bharat Agri Startup
BharatAgri was founded in the year 2017. It is a platform for agricultural technology which was founded to fill the lacunas between agriculture and technology. The company's platform assists farmers in increasing their farm yields by using scientific technology.
BharatAgri targets India's millions of medium- and large-scale farmers. They provide them data-driven, individualised consulting employing data science and in-the-moment observation. Farm yields are increased by 30–40% with company's technology-driven advise. Through a marketplace model built into the BharatAgri subscription, the platform also takes care of other agricultural needs including crop inputs, financial instruments and farm-to-market.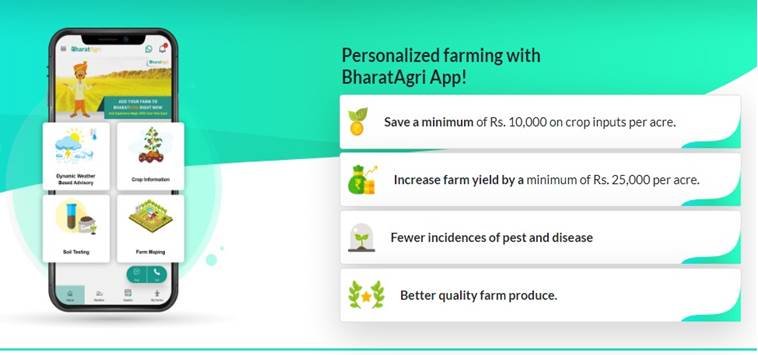 Bharat Agri Founder Journey
Sai Gole and Siddharth Dialani moved to a rural village in Pune after leaving their jobs and worked on a farm for more than a year before founding BharatAgri. They collaborated on how they might leverage their experience at IIT to create solutions for the farmers while living among farmers to acquire a sense of the challenges they frequently encountered.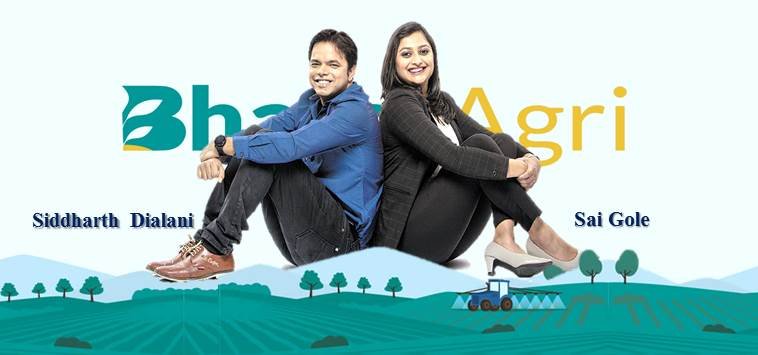 Gole and Dialani founded BharatAgri in Pune in 2017 to give farmers with a "systematic solution and consultancy calendar." Based on the data acquired from farmers, BharatAgri's algorithm provides important inputs such as what the farmers should produce, how they should grow it, when to irrigate, and when to apply fertiliser, so assisting them in increasing productivity.
About Bharat Agri
| | |
| --- | --- |
| Founders | Sai Gole and Siddharth Dialani |
| Founded in | 2017 |
| Head Quarters | Pune |
| Legal name | Lean Crop Technology Solutions Pvt ltd |
| Sector | Agritech |
| Funding stage | Series A |
| Competitors | Unnati Agri, Agrostar, DeHaat |
| Networth | 162 Cr (Tracxn reports) |
| Fund raised | $174 M Series A |
| Website | www.bharatagri.com |
Also Read
Bharat Agri Funding & Valuation
According to Crunchbase business news reports, Bharat Agri closed its last funding round on Feb 7th 2023 from a Series A round and the Company raised a total fund of about $22.7M. As on January 2023, the Tracxn reports estimated Bharat Agri valuation as $19.6M.
Bharat Agri-Business Model
Bharat Agri operates on a business-to-farmer (B2F) basis which deal directly with their customer's inquiries with no middlemen. They have a website and an app where clients can sign up and express their difficulties with staff and the aid through WhatsApp, SMS, and Interactive Voice Response (IVR) conversations are also available. The beneficiaries of Bharat Agri in the form of personalized advisory crop solutions are about 140 million farmers.
Services offered by Bharat Agri
Weather-based Advisory: Crop-specific information like the type of crop grown, sowing date, and cultivation area are entered in the app and relevant information like preventive measures to be taken are provided based on prevailing weather conditions.
Smart Krushi Book: Crop management advisory tool that provides real-time crop protection updates for more than 350 crops from sowing to harvesting.
Chat with Expert: Farmers can connect to experts at each crop stage and can share crop-related issues to get instant solutions.
Personalized Crop Calendar: Algorithms based on more than 30 parameters are used to generate unique and personalized crop calendars.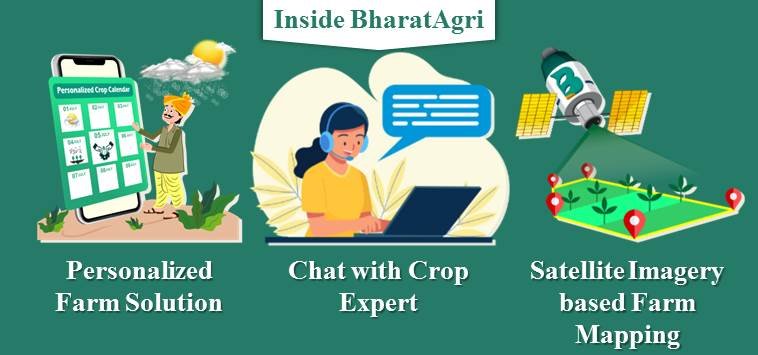 Input Assistance: It assists in identifying the best product that can be used at farm and delivers the product at the farmer's doorstep.
Satellite-based farm mapping: Satellite imagery provides important crop information at the right time with frequent monitoring.
Soil testing: It involves testing of about 15 important parameters of farm soil which helps in cutting down expenses on fertilizers by up to 10% and increases crop yield up to 10-20% by providing enough nutrients which improves soil fertility.
Water testing: This test involves checking the water quality, and suitability for crops and identifying essential minerals of farm water.
Krushi Khabar: Bharatagri provides the latest updates on farming trends, market prices and agriculture news.
Krushi Dukan: Krushi Dukan of Bharatagri is one stop shop platform for buying seeds, pesticides, fertilizers, and growth promoters.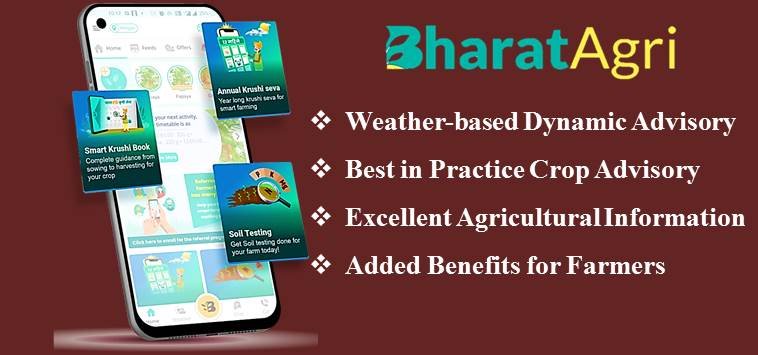 Premium services: Bharatagri offers premium service to farmers at Rs. 49 for one month and at Rs. 399 for 12 months. The services offered includes Agri finance, farm insurance, market assistance, free and fast delivery of products ordered at Krushi Dukan.
Bharat Agri Mission
The mission of Bharat Agri is to "Empower every farmer & Digitize every farm" by supporting farmers to "Grow Efficient, Grow More" through the methodical use of scientific procedures, timely provision of crucial information and frequent monitoring and the vision is to reach out to the maximum number of Indian farmers.
Awards & felicitations
Bharat Agri was one of 20 Indian startups selected for the Google for Startups Accelerator India program in 2020.
In March 2017, Bharat Agri won the UberPITCH competition after which Uber invested $50,000 (35 lakh) in the firm.
The journey of Agriculture is at a crossroads and the establishment of platforms like Bharat Agri is a turn to be taken. Artificial intelligence-based solutions like weather advisory, crop-specific information, development of personal crop calendars and much more at the smartphone level can aid the farmers in crossing the hurdles in the journey of agriculture. This step of taking forward digital technologies for agriculture can digitalize every farm which can augment economic benefits leading to farmers' empowerment.
Latest Post…