India has been an agrarian society for decades and farming continues to be the primary source of livelihood for a significant portion of the population. In recent years, the share of agriculture sector and allied activities accounted for about 17.8% of the Gross Domestic Product (GDP) while the sector employed 45.6% of the labour force in India. These numbers represent a mismatch wherein the population dependent on agriculture for livelihoods widely exceed the contribution of that sector to the national income, highlighting a strain on individual incomes for the people engaged in the sector. According to the National Sample Survey, 50.2% of agri-households in India are in debt. The inability of small agri-households to adapt to rapid commercialisation of agriculture combined with other challenges such as lack of access to quality agricultural inputs, unpredictable weather patterns, lack of infrastructure and more has further exhausted the profitability and incomes of the people engaged in farming activities, leading to great discontent among the agriculture community.
This extent of dissatisfaction with income generation amongst farmers served as a catalyst for DeHaat's journey and continues to shape its mission even today. As we delved deeper into these daunting challenges, a noticeable gap emerged – The disconnect between farmers and key stakeholders of this ecosystem. Input companies, manufacturers, institutional buyers, and financial institutions seemed disconnected from the harsh realities and struggles of farmers, and more focused on their business priorities which ended up exacerbating their difficulties.
The desire to bridging this gap and ensuring seamless access to holistic agri-services led to the birth of DeHaat, a 'Farmer-First' organization, dedicated to providing full-stack agri services to farmers across the country. Operating at the intersection of traditional agriculture & modern tech-enabled innovations, DeHaat is today the largest & the fastest growing agritech startup in India.
3 Ts to Success: Trust, Tech & Transparency
In the early stages of DeHaat's journey, the tough reality was to sensitize the farmers and help them embrace the ideas. The first challenge encountered was the unfamiliarity many farmers had with the concept and team's IIT- background at large. They asked, "What's this all about?" Even those who knew about IIT were surprised, saying, "There's not a single one within a hundred villages!" They were sceptical and wondered, "Do you even know anything about farming? Can you really tell us what to grow and what not to grow?"
Each one of us was equally puzzled by the deep-rooted inefficiencies found at every stage of the farming process. While team's conviction was backed by solid data showing that a whopping 80% of cultivated land in the state was dedicated to low-return traditional crops like wheat and paddy. It made us wonder, "Why aren't they growing more profitable crops?" All of us were united by one conviction that switching to high-value crops with shorter growth cycles was the key to this problem.
However, it wasn't easy to win over the farmers. For decades, they had been struggling with wheat and paddy farming just to make ends meet. Trusting a bunch of urban youths and embracing the idea of high-value crops was a big leap for them.
The team at DeHaat didn't give up. As time went on, the team adjusted its strategy. We realized that gaining the farmers' trust was crucial, so the focus shifted towards improving the efficiency of their current crop cultivation and instilling sustainable practices. The core concept here was to gain trust and invest the required time and efforts to deliver the desired results. Each & every individual at DeHaat spent months working alongside the farmers, becoming their trusted companions. It was during this process that we realised that the entire agricultural process was flawed, fragmented, seen as separate pieces instead of a connected whole. This created a significant void for a comprehensive and holistic solution that could truly make a positive impact on farmers' lives.
The real game-changer for us was to cultivate a behavioural change. No matter what technology interface we build, bringing this behavioural change through our platform was need of the hour. The problem being tackled was all about transparency because the sector was riddled with inefficiencies owing to its long tail. Technology could bring that transparency, but it was also crucial that the farmers, operators, collection centre operators, and even last mile delivery partners could embrace and use it. That's where behavioural change became vital.
The journey from 'Beej to Bazaar'
A little away at Maithana Jagatpur village, 18-year-old Kushal Sharma helped his fellow Basmati paddy farmers with farm solutions by looking up the DeHaat app, while 46-year-old Hukam Singh called the start-up's call centre seeking solutions. This is just one story amongst the 2 million farmers that DeHaat has been able to empower as part of its journey. Through numerous encounters, learnings, failures, and success, DeHaat has perfected its phygital outreach to farmers to offer holistic agri services required throughout the crop life cycle.
With customised advisory solutions tailored as per individual farmer's location, crop & land holding, DeHaat is on a mission to revolutionize agriculture and empower farmers' decision making. The goal is simple: to make a meaningful impact on farmers' lives through cutting-edge solutions that truly make a difference.
Operating through three focused verticals, the aims remain to offer comprehensive solutions tailored to a farmers' needs. The organization provide essential agricultural inputs, expert advisory services, and seamless marketing opportunities for their produce. Imagine having access to premium agri-input products, personalized advisory services, financial support, and market connections all in one place. That's what DeHaat delivers. Its comprehensive approach ensures that farmers receive the utmost support at every step of their journey. We believe in harnessing the power of technology to create a seamless, 360-degree experience for our valued vendors and internal teams.
But it just doesn't stop here! DeHaat embraces the latest advancements in deep tech, including artificial intelligence and machine learning, to optimize operations at every level – from the farm to the farmer and throughout the entire value chain. This integrated approach allows us to provide holistic solutions that empower farmers and propel their success forward. The mission is to enhance farmers' income while also improving their agricultural practices and boosting overall productivity.
Cultivating Success, One Village at a Time | DeHaat
With an impressive presence of 12,000 micro-entrepreneurs across 190+ districts, DeHaat extends its unwavering services to farmers in 118,000 villages. Currently, the operations span 11 agrarian states, servicing 2 million farmers directly & through associations with 500+ Farmer Producer Organizations (FPOs).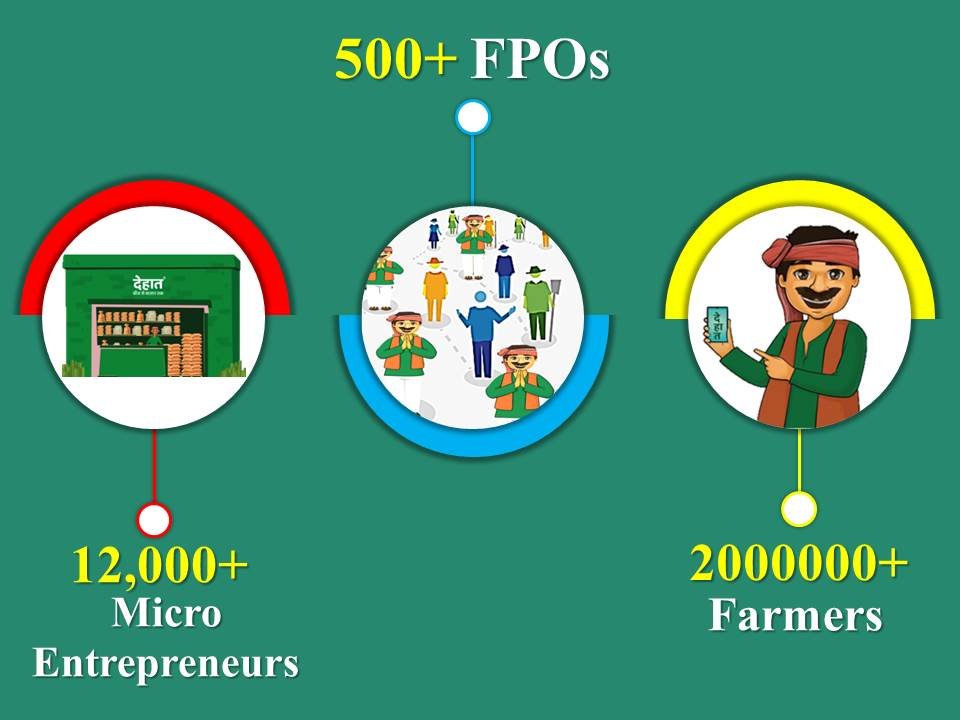 In addition to the physical presence, the agritech based company facilitates AI-enabled crop advisory services that cater to over 30 crops, delivered in regional languages for maximum accessibility. The commitment to leveraging cutting-edge technology ensures that farmers receive the most accurate and tailored guidance for their specific agricultural needs. As a fully funded start-up, DeHaat has experienced exceptional growth, solidifying its position as a leading player in the industry, even at a global level as well. The consistent recognition as a Great Place to Work for two consecutive years, 2022-2023 and 2023-2024, is a testament to the strong work culture being fostered.
What truly sets DeHaat apart is the profound impact made at the grassroots level throughout its remarkable 12-year journey. Over the past three years, our growth has been remarkable and witnessed 50x growth in revenue and business. In early 2019, we were working with 200 DeHaat Centers, a number that has now grown to an impressive 12,000. Our key business metrics have also seen 3x growth YoY for the past 4 years. The efforts have been recognized and applauded by prestigious organizations including NASSCOM, Forbes, ET, Niti Aayog, the Bill Gates Foundation, and many more.
The Road Ahead
DeHaat is on an unwavering mission to create a positive impact on the lives of Indian farmers. We have today successfully built a crop agnostic ecosystem, offering end to end value chain services for more than 50 commercial crops, in line to service 5 million farmers through a network of 30,000+ Micro Entrepreneurs by 2025. In addition, we are aggressively working towards tackling global agri challenges, including promoting climate resilient farming through our association with global bio agri-input innovations and ensuring global food securitization through our rapidly expanding exports footprint. And in a $400Bn Indian agriculture sector with more than 150 million registered farmers, this is just the beginning.
Note- This article is from the August issue-Times of Agriculture magazine and is authored by Shashank Kumar, the co-founder of DeHaat
Latest post