Padma Shri Award for Agriculture 2023 is given to 4 people. Padma Shri is given to the persons who have contributed remarkably in the fields of sports, arts, agriculture, social work, public affairs, science and engineering, civil services, trade and industry, literature and education, and others. It is one of the highest civilian awards announced on every Republic day. It is divided into 3 categories.
Padma Vibhushan – Given for exceptional and distinguished service.
Padma Bhushan – Given for distinguished service of higher order.
Padma Shri – Given for distinguished service.
The Padma Awards Committee recommends the names for the awards, while the Prime Minister decides the final list. Public and well as the person himself/herself are open to being a part of the nomination. The President of India honours the awardees with an award on the eve of Republic Day.
History of the Padma Award
In 1954, to give recognization to persons with excellence in their respective fields or the ones who have contributed towards the betterment of mother earth; the Government of India commence two civilian awards Bharat Ratna & Padma Vibhushan. Later on January 8, 1955, they were divided into three classes namely- Pahela Varg, Dusra Varg, and Tisra Varg which are now called Padma Vibhushan, Padma Bhushan, and Padma Shri respectively.
Persons irrespective of their race, occupation, position, or sex are honored with these awards. (Except government servants working with PSUs but Doctors and scientists working with PSUs are eligible.)
Read More:
Padma Shri in agriculture (2023)
On 26 January 2023, that is on the 75th Republic Day of India, 106 Padma Awards were distributed to the remarkable contributors to the welfare of India and its people. This included 6 Padma Vibhushan, 9 Padma Bhushan, and 91 Padma Shri awards.
Of this, 4 awardees were awarded for their exceptional performance in the Field of Agriculture. Who won the Padma Shri in agriculture field? Their names along with their short introduction and work are as follows.
Shri. Tula Ram Upreti
Shri. Nekram Sharma
Shri. Patayat Sahu
Shri. Cheruvayal Raman
List of Padma Shri awardees in the field of agriculture: Padma Shri in agriculture 2022
Padma Shri Award for Agriculture 2023
Here is the list of awardees who got third highest award in agriculture in India.
1- Shri. Tula Ram Upreti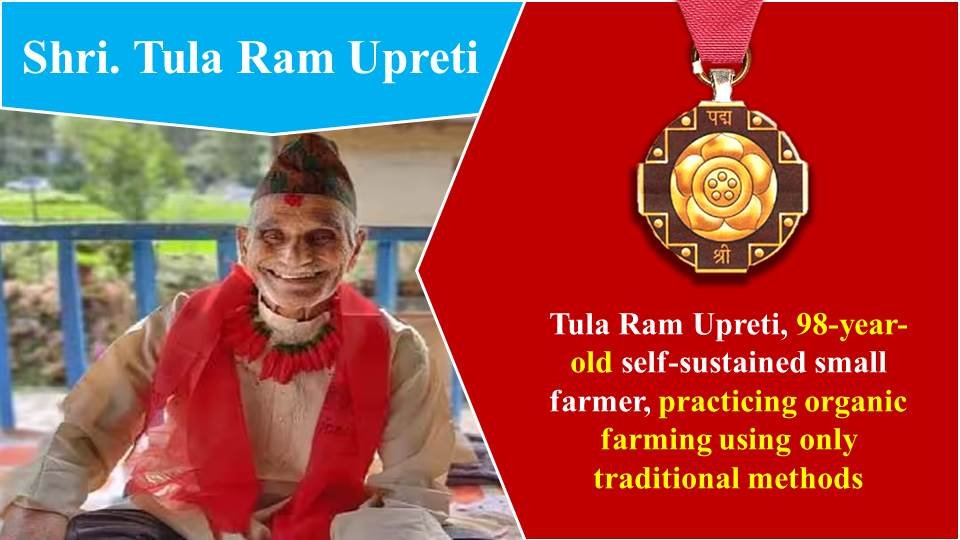 Personal Life Shri. Tula Ram Upreti
Shri. Tula Ram Upreti is from Sikkim. He is 98 years old and has a huge joint family which consists of 8 sons and 7 daughters, 104 grandchildren, and great-grandchildren. He was educated till the 5th standard at the Tasi Namgyal Higher Secondary School (now TN Senior Secondary School).  He has worked for a local Panchayat from Lingzey ward under Assam Lingzey Gram Panchayat Unit for a tenure of 25 years. He had been a two-time Panchayat President. His son KN Upreti has been a former Minister and Legislator from the Rhenock constituency from 1979-99. He was awarded for organic farming awards 2023.
Before the establishment of democracy by Sikkim, Upreti was involved in trade with Yatung in Tibet during the 1940s and 1950s. During that period, he and his companions had to travel with the cargo of rice, buckwheat and maize on foot to Tibet taking the famous silk route.
Work
Shri. Tula Ram Upreti has been practicing organic farming for 8 decades for the cultivation of paddy and other vegetables. He is the pioneer to start farming with zero usage of chemical fertilizers and pesticides. Upreti continued the 'legacy of his forefathers in farming' in his 90s too. Looking at this determination, consistency and contribution of Upreti towards organic farming, he is awarded Padma Shri Award in the field of Agriculture.
Before receiving these agriculture awards 2023 his accomplishments were appreciated by the State Government of Sikkim by giving him the title of 'Father of Organic Farming'. After 20 years of this, Organic Mission was initiated in Sikkim.
2- Shri. Nekram Sharma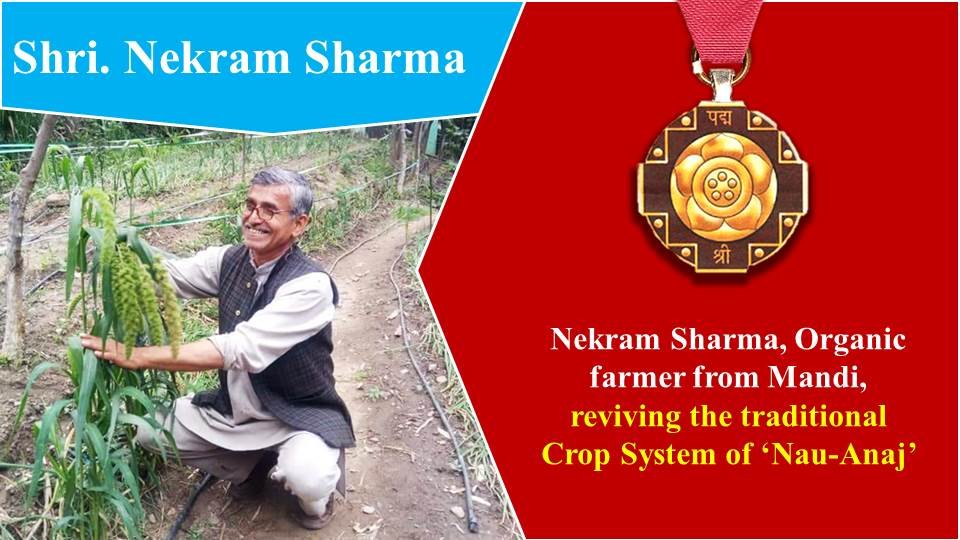 Personal Life Shri. Nekram Sharma
Nekram Sharma is a 59-year-old farmer. He lives in the Karsog valley of the Mandi district of Himachal Pradesh. In 1984 when he was a youngster, he was rejected for Government employment. After being rejected he started farming in his family's 22 bighas of unused land. Fruits and vegetables were grown by him. As an experiment, he tried organic farming. After getting the whole knowledge of the cultivation of crops without using chemical fertilizers and pesticides, he switched entirely to ancient farming techniques. This step made him the awardee of the 2023 Padmi Shri awards.
Work
Nekram Sharma implemented the system of Nau-anaj (Nau-Nine; Anaj- crops), defined as intercropping nine crops on the same piece of land. The crops grown by him include cereals, creepers, lentils, legumes, and vegetables. These crops are reproduced from the indigenous seeds which were passed to him by his ancestors. He grows beans, buckwheat, foxtail millet, maize, moong, amaranthus rajma, and urad dal on his land. According to Nekram Sharma, a farmer can grow 18 crops in one year- 9 Kharif and 9 Rabi. This increases the fertility of the soil, consumes less water and reduces input costs.
Nekram Sharma has been working on the preservation of traditional methods of agriculture and has become successful in producing indigenous seeds of all local varieties for the upcoming generations. His seed bank consists of 20 indigenous seeds, of which 8 are millet types, and 3 are wheat varieties. Due to this remarkable work, local people refer to him as the 'savior' of indigenous seed.
Read More:
3- Shri. Patayat Sahu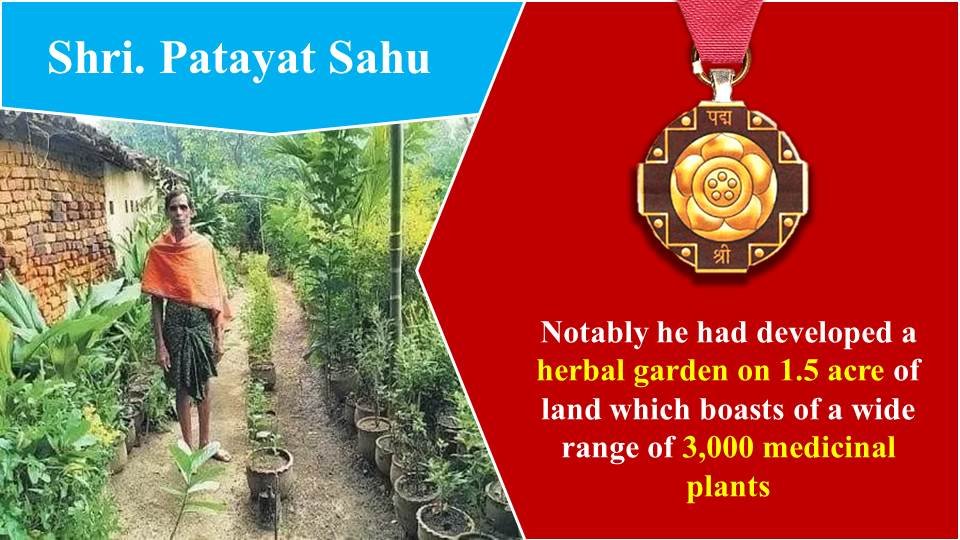 Personal Life of Shri. Patayat Sahu Padma Shri
Patayat Sahu is 65-year-old man who lives in the Nandol village in Odisha's Kalahandi district. His grandfather was a Vaidya (traditional healer). This got him interested in medicinal plants and after completing his education he learned healing practices from his grandfather. He read various manuscripts on traditional healing methods and medicinal plants and their uses. In the beginning, learning about medicinal plants was his hobby but later he started growing a medicinal garden 40 years back and added new species to it with time.
Work
Patayat Sahu has made a mini-forest on 1.5 acres of land which consist of 3,000 medicinal plants. He nurtures these plants by using organic manure and had never used chemical fertilizers or pesticides on them. He cures the people by making them medicines from these plants and does take a penny from them in return for his service. It medicinal garden made by Sahu has rare species of plants like Ashoka, Lodhra, Bidanga, Sambarsingha, Rasnajadi, Tihudi, Bhin Kakharu, Maeda, Sarpagandha and Shatavari. PM Narendra Modi mentioned him and praised his contribution in the 81st episode of his monthly radio programme 'Mann Ki Baat'.
4- Shri. Cheruvayal Raman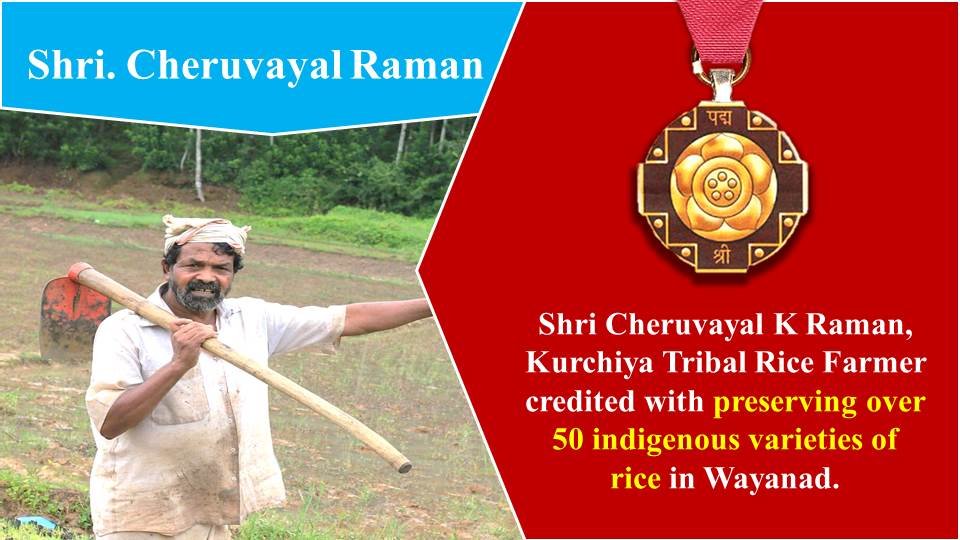 Personal Life of Shri. Cheruvayal Raman
Cheruvayal Raman is a 75-year-old paddy farmer who lives in the Wayanad District of Kerala. He belongs to the Adivasi community of Kurachiyas. He is fondly called Ramettan by the villagers. He started working in the fields when he was only 10 years old. In 1969, after the death of his uncle, he took paddy cultivation seriously. He started to grow rice on the 40 acres of land left to him by his uncle. He started to preserve indigenous paddy seeds during the early 2000s.
Read More:
Work
Cheruvayal Raman realized after 3 decades that, the native paddy was losing its ground due to the hybrid paddy. Thus, to prevent the indigenous paddy from extinction he made a patch of 1.5 acres on his 4-acre plot of land and cultivated local seeds collected by him. Today he has around 35 indigenous rice varieties and whenever anyone comes to buy rice from him, he doesn't have the money but asks them to cultivate the same rice and return the seeds to him. This is his determination toward the preservation of indigenous rice varieties.
Who got Padma Shri award for farmer?
4 awardees were awarded Padma Shri for their exceptional performance in the Field of Agriculture. Tula Ram Upreti, Nekram Sharma, Patayat Sahu, Cheruvayal Raman
Latest Post