Nowadays, most Indian youths are planning to get a job in multinational companies or emigrate to foreign countries to live a wealthy and luxurious life. But, Atul Mishra, a resident of Uttar Pradesh, chose farming as a profession and made a great impact on the youngsters of his village. Even after being from a technical background, he has shown a keen interest in dragon fruit farming and today, as a fruit of his hardships, he is earning handsomely from it.
The Short Story of Atul Mishra Life- Dragon Fruit Success Story
Atul Mishra, dragon fruit growers in India lives in the Chilahua village, Shahjahanpur district, Uttar Pradesh. He belongs to agricultural family. He has completed B.Tech in computer. But even after graduating from such a field with vast scope, he decided to go for dragon fruit farming. His inspiration behind this move was to be useful to the farmers of his village and make his district renowned. Thus, without taking any high-paying job in any multinational company, he aimed for the cultivation of high-cost yielding dragon fruit agriculture in India on his farm. Currently Dragon fruit is most profitable fruit farming in india.
Read More:
Initially, he researched about the different farming practices required for the dragon fruit cultivation in India, using internet. Then, in the year 2018, he bought a few saplings of dragon fruit from the Solapur District of Maharashtra and planted them on the barren land of his field. This experiment on a small piece of land was of great success and therefore, later he increased the Dragon fruit plantation area to five acres. In addition to this, now he has employed three men and a woman to assist him in the cultivation of dragon fruit on a large scale. Thus, it has turned dragon fruit farming into a successful enterprise. It is the dragon fruit success story of Atul Mishra in India.
Dragon Fruit Framing: Atul Mishra | Dragon fruit growers in India:
In the past, wheat growing was practised by his family on a specific part of their land. But, the production was distressing, since it didn't even cover the input cost.
When he was asked about the plant protection practices followed by him, he said that he uses cow urine and medicines to keep the plant away from the attack of fungus. He said that the fruit yields one year after the sowing. The fruiting starts to develop on his plants in May and stays till the end of December. Thus, the income from the fruit continues for almost eight months.
Also Read:
Today, he earns remarkable profit by selling this fruit in Delhi's Azadpur Mandi. He did not stop here, but now he provides dragon fruit saplings to the farmers of his state as well as different states like Bihar, Haryana and Madhya Pradesh. Also, he guides them on how to take the profitable production of dragon fruit. One such farmer influenced by him is Kuldip Singh from Rampur Daulatpur. He has decided to go for this cash-fruit production.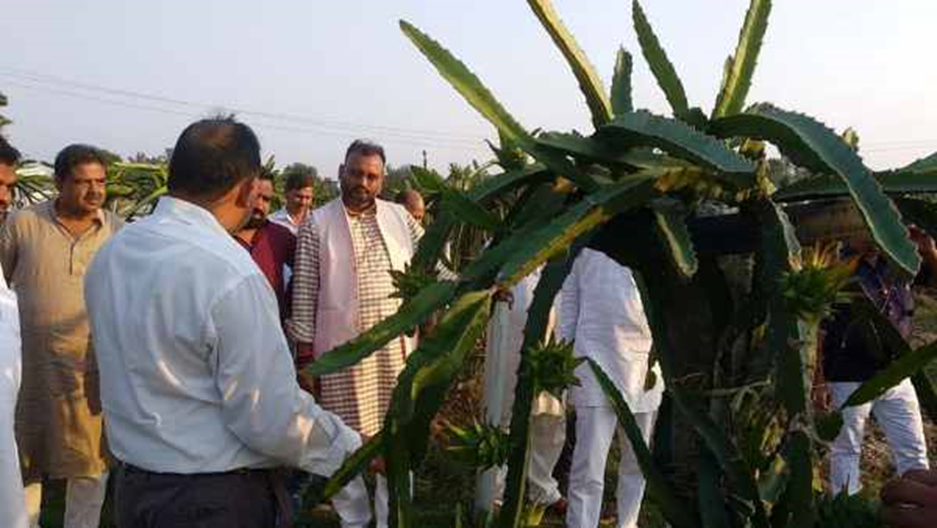 He has not just raised his status, but also, fulfilled his dream of being useful to his society. Looking at the success rate of dragon fruit production, he has planned to expand its area of plantation to another seven acres of his land in future. He is looking forward to developing the area into agri-tourism and for the same, he is aiming to meet Chief Minister Yogi Adityanath to propose his idea of agri-tourism in front of him.
Read More:
Thus, from Mishra's inspirational dragon fruit farming story in India, we can conclude that farming is not a game of traditional practices but a game of brain and new ideas. You should be smart enough to know what the market wants and how you will be able to provide the same to the market. Also, it is always good to experiment with something new by doing proper research. Dragon fruit in India was Mishra's experiment which turned him into an entrepreneur. What will be yours?
Related Post