Meet, Tushar And Vivek started An Hydroponics Farm (Rise Hydroponics India) in agriculture land in Jaspur, Ahmedabad locality in 2020 now scaled to the big Agri-Tech Hydroponics Startups earning Crores. They also started their company by name Rise Hydroponics Ahmedabad which helps other people start their own Hydroponics farm in Joint Partnership with them
In this Article we would discuss about how Rise Hydroponic started and their working model
What is Hydroponics?
Hydroponics cultivation implies soilless cultivation. It does not need land. Planting is done in a pipe or stand rather than the ground. Its whole interaction and innovation is to such an extent that the required nutrients for the growth of the plant can be given through water medium. For the most part, normal fiber from coconut called Cocopeat is utilized instead of soil. In some cases rocks and stones are additionally utilized.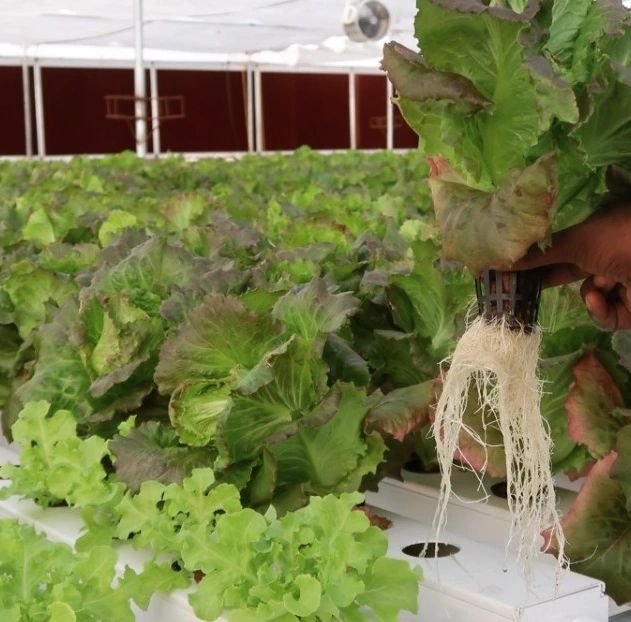 Image Credit: Rise Hydroponics
What is Hydroponic Startup
Any suitable crop can be grown in a hydroponics system regardless of climate as temperature, humidity, sunlight can be altered as desired in a close environment system. Those crops which are season specific can be grown in whole year and one can get high price in offseason selling of crops in hydroponics system
There is no halting in the Indian hydroponics farming business sector. As a matter of fact, a report given in February 2021 said that the Indian hydroponic farming business sector is probably going to develop at a CAGR of 13.53% between the year 2020 and 2027. In the meantime, the worldwide market is said to develop at 6.8% rate
New companies are presently assisting farmers with avoiding soil based medium and developing plants in a supplement rich arrangement of water and harvest rich yields. Among them is Ahmedabad based agritech startup Rise Hydroponics which was established in April 2020 by Tusshar Aggarwal, Meet Patel, Ruchir patel and Vivek kumar Shukla. 
Rise Hydroponics produces different types of exotic vegetables within a covered and controlled environment with no use of pesticides, fertilizers and with no soil. Exotic vegetables are grown in water with the help of coco peat and an adequate amount of water nutrients.
About Rise Hydroponics
| | |
| --- | --- |
| Company Name | Rise Hydroponics |
| Rise Hydroponics Owner | Meet Patel, Tushar Agrawal,Vivek Shukla |
| Business | Hydroponic Farming |
| Founded Year | 2020 |
Journey of Starting Rise Hydroponics
Meet And Tushar both studied together in the Entrepreneur Development Institute Of India. As they were from an Agriculture background they wanted to pursue agriculture as a business, in the year 2016 they started gaining knowledge on the Hydroponics system of Rise farming.
After two years of intense research and training, they along with Vivek and Ruchir started a consultancy firm around Hydroponics Farming. They started educating farmers and youths about the hydroponics system of farming. Benefits of hydroponics farming against traditional methods of farming.
In the last two years they started their own agriculture-tech hydroponics startup by name Risehydroponics to provide a complete solution and alternative to traditional farming.
They are committed to spread the use of Hydroponics and other soilless methods for agriculture across India.
Also Read:
Work Done By Rise Hydroponics
Currently they are working on exotic crops like Colour Capsicum, Tomato, Cucumber, Lettuce, Basal, etc. they work in controlled and semi controlled environment. They use a shed net system, fan pad cooling system polyhouse to provide a suitable environment for exotic which cannot be grown in open field conditions.
They also help others in setting up a Hydroponic startup by providing each and everything and also helps in marketing and selling of your crops later.
They provide end-to-end service in the field of Soilless Agriculture – Commercial Project Development (Indoor/Outdoor), NFT Systems, Dutch Buckets, DWC, Cost-effective grow bag with cocopeat system, Grow Lights, IOT Automation, Autodoser, Polyhouse Structure Development, Irrigation systems, Raw Materials, Hydroponics consultation, Agronomy Services.
They also have an IOT(Internet Of Things) based system from which one control the farm equipment from mobile phone with the help of Internet by giving commands. In their case activities like starting of foggers, fan pad, coolers, aerodripers etc can be controlled from mobile devices.
Rise Freshz: A retail venture for Locals as a pesticide free and residue free veggies
They have started a local delivery system of delivering fresh Vegetables that are residue free and pesticide free to door step. They have started this unit in Ahmedabad, Vadodara, Gandhinagar and Mumbai and are focused to start in several major city of India
Vision Of Founders Of Rise Hydroponics
Their vision is to make agriculture a sustainable livelihoods to farmers as India has a vast population of 1.3 Billion and fulfilling the demand for vegetables hydroponics is the best viable option. And also increase in the farmer income by getting respectable amount of money for their produce. they are on a mission to support 5,00,000 farmers by 2030 & make India "Aatmanirbhar" by giving one-stop turn-key solutions.
Read More:
Achievements of Rise Hydroponics
They have trained over 20,000+ individuals from every corner of India in the last 12 months.
They have 20,00,000+ Sq. Ft. Of Area Developed with Hydroponics Farming
They have 30+ Large Scale Hydroponics Projects Commissioned in Record Time
They have worked in 24+ Cities, where Rise Hydroponics has built Commercial Hydroponics Farms
They have upcoming project in other international markets like Abu Dhabi, Africa, Oman.
Latest Post