In farming, apart from fertilizers, and seeds, what is costly is the labour wage. Leaving few rich states like Punjab and Haryana, even poorer states like Bihar do not get enough labor at the time of farming. In such a situation, technology has stood in favor of the farmers. But the use of technology in farming is a bit expensive.
The government is promoting the use of drones to reduce the agricultural cost of farmers. A drone is an unmanned small aircraft that can be controlled remotely or it can fly autonomously. It consists of a GPS based navigation system, a variety of sensors and a controller. It works on battery based energy. It is flown and controlled by the controller. Depending on the end use, many types of equipment such as cameras, insecticide spraying devices etc. are also installed on it.
Advantages of Drone Technology in Agriculture
Photography of crops.
Weather forecasting.
Agriculture area monitoring.
Military purposes.
Application of pesticides and fertilizers.
Capture of high resolution images
View of Data in real time
Data is processed in the cloud & translated into useful information
Maps providing different type of information from the field e.g. Soil quality, plots size, plant health.
About Agriculture Drone (Kisan Drone)
flying height- Drones can fly around 50 – 100 m height. Above 50m, a special authorization is required.
licence required –Currently, flying agricultural drones depends on national laws. For non-commercial use, no pilot licence is required if you're operating nano and micro drones, the new government rules state.
weather – A drone can fly under any weather condition. Drones are water resistant, but image quality can be damaged if pictures are taken during rainy weather.
Distances –It depends on the drone capability and size. Fixed wings drones have longer flight time and can cover more field in one flight. For instance, 50 min flight time will cover up to 12 km2.
Cost- A standard drone for public use with the capacity of 12 liter is starts at Rs. 3.45 lakh. In the agricultural sector, small drones without specific technology can go from Rs. 3.60 lakh to Rs. 10.0 lakh according to its water holding capacity. The higher technological drones used specifically for agriculture start at Rs.15.0 lakhs.
Images taken by a drone and satellite images
Drones can take pictures with a resolution down to a few cm per pixel. A drone can get higher quality and higher precision of images in real time as they can fly below the clouds. Besides, a satellite only takes pictures once a week or once a month.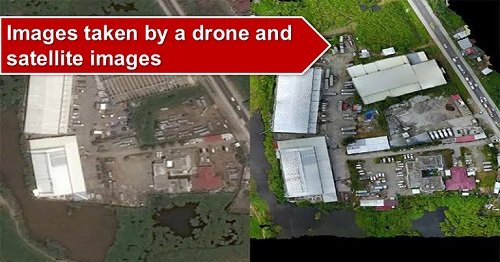 Information which get farmers from the images
Raw data collected by drones gets translated into useful and comprehensible information for farmers thanks to specific algorithms. Some of the information these images provide is:
Plant counting: Plant size, plot statistics, stand number, compromised plots, planter skips.
Plant height: Crop height and density.
Vegetation indices: Leaf area, anomaly detection, treatment efficacy, infestations, phenology
Water needs: Damage/drown out.
Drones ensure a permanent monitoring of the crop in the field from planting to harvest.
Also Read
Benefits to use agricultural drones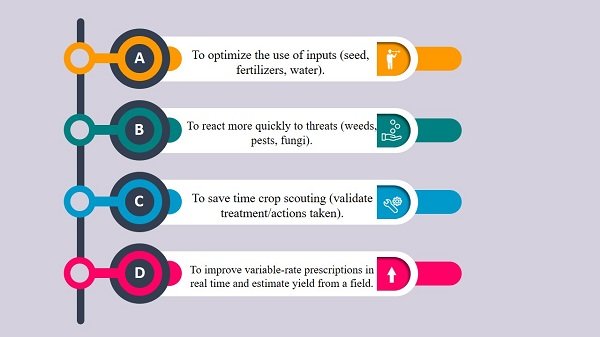 Kisan Drone Scheme
'Kisan Drone Scheme' was launched by the Union Agriculture Minister of India Narendra Tomar. Kisan Drone Scheme was launched in February 2022. In This Scheme 100 drones provided by government to Indian farmer.
Government Subsidies on Agriculture Drone
Category
Available Subsidy
For Farm Machinery Training and Testing Institutes, Indian Council of Agricultural Research (ICAR) institutes, Krishi Vigyan Kendras and State Agriculture Universities.
A grant up to 100% of the cost of agriculture drone or Rs.10 lakhs:
For Agriculture graduates establishing Custom Hiring Centers (CHCs).
50% of the basic cost of a drone or up to Rs.5 lakhs
For Farmer Producers Organizations (FPOs) and rural entrepreneurs.
40% of the basic cost of a drone or up to Rs.4 lakhs
If drones are used only for demonstration purposes FPOs would be eligible to receive a subsidy of 75% of the cost of the drone.
Major Drone Manufacturing Companies in India