Strawberry cultivation in India is mostly done in Mahabaleshwar, Maharashtra. Mahabaleshwar strawberries contribute around 85% of strawberry production while the other strawberry-growing states like Haryana, Himachal Pradesh, Delhi, Punjab, and West Bengal produce the remaining 15%. Strawberries need a cold climate and red soils for their cultivation.
To everyone's awe, Gurleen Chawla, a girl living in Jhansi has taken the successful production of strawberries in the warm climate region of Bundelkhand, Madhya Pradesh.
What inspired Gurleen Chawla to start strawberry cultivation?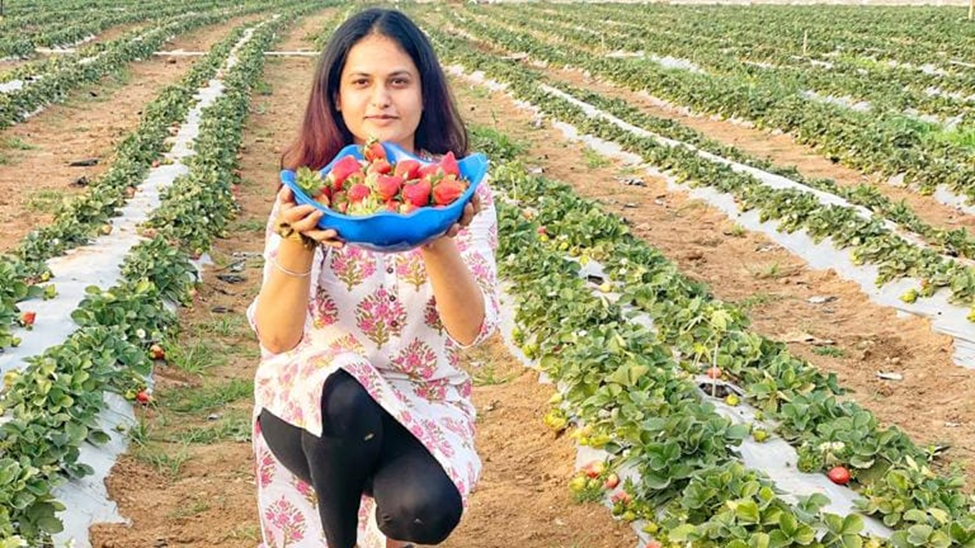 Gurleen Chawla was studying LLB in the college at Pune. But, due to the lockdown, she came to her hometown, Jhansi. There was nothing for her to do at home and therefore to spend her time effectively and interestingly she decided to grow strawberries on her house terrace. She loves strawberries since her childhood. This small strawberry cultivation in the pots was of great success.
Looking at the fresh and tasty strawberries grown by her, the idea of growing them on their land came to her mind. And in this way, strawberries established its root in the soil of Bundelkhand.
Gurleen Chawla's Journey of Strawberry cultivation
Gurleen planted 20,000 saplings of strawberries on 1.5 acres of her land. She procured the planting material of strawberry from Pune, which is imported from California.
Strawberry needs soil that does not absorb water easily, and that's why they are grown on mountainous soils. Gurleen knew this and therefore she decided to get into strawberry cultivation. She thinks that if the modern techniques of cultivation are clubbed with the soil, then there will definitely be a good result. She has implemented Israeli techniques on her farm, which has given her recognization in her region.
A drip irrigation system is a set-up on the farm. To site see her farming methods, the Israeli embassy visited her farm and also gave her ideas on how to make strawberry production year-round.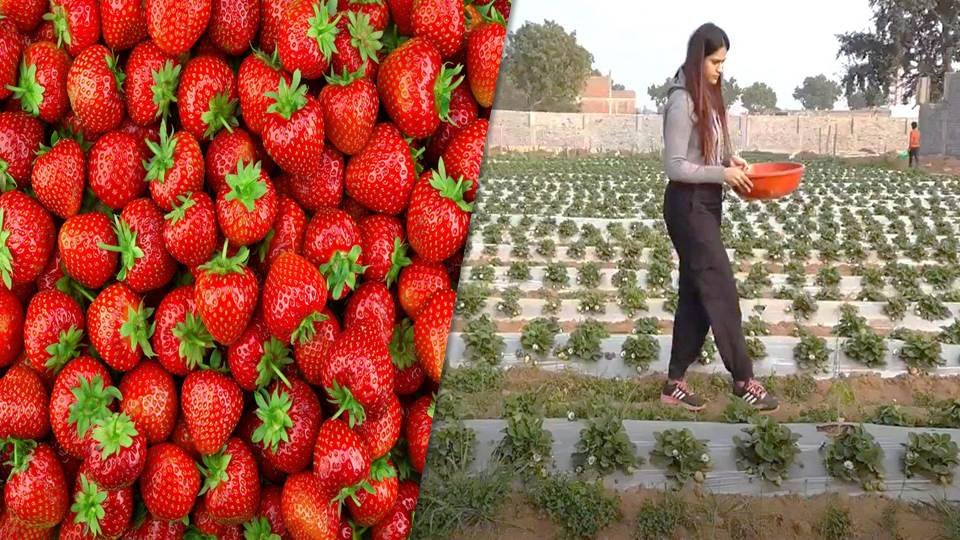 The best part about the strawberries grown by Gurleen is- They are 100 percent organic. She uses organic fertilizers and pesticides to ensure the best quality strawberries for her customers. She tie up with the local markets and supermarkets to sell her strawberry and she got good feedback about her strawberries from them.
Also Read
She has increased the production to 7 acres and on a daily basis, 70kgs of strawberries are supplied to the market from her farm. Apart from this, she also grows cabbage, cauliflower, bell pepper and other seasonal vegetables as an intercrop in strawberries. She earns around 30 lakhs from all the crops and strawberries she grows on the field.
Jhansi Organics
In a few weeks, Gurleen collaborated with supermarkets, fruit shops, restaurants, and some home bakers to supply her produce. She also launched a website — Jhansi Organics to market her produce locally. You can also check out his page on Instagram and Facebook.
Till date, she continues to harvest 60-65 kilos of strawberries every day and sells them at Rs 300/kg.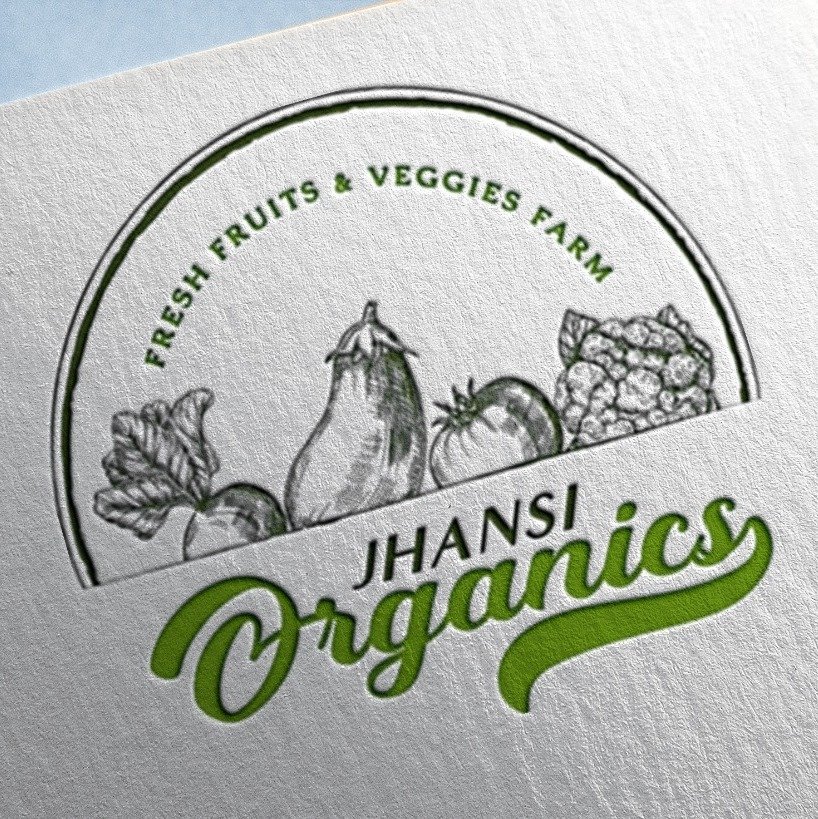 Recognition for her work.
1. Prime Minister Narendra Modi also mentioned her efforts in the Man Ki Baat programme which airs on Akashwani. He mentions her astounding work in the following words- "Gurleen's successful cultivation of strawberries has given a new hope to everyone, that strawberries can be grown in Jhansi as well." This made her famous in her village. Today, she is known as a 'strawberry girl' in Jhansi.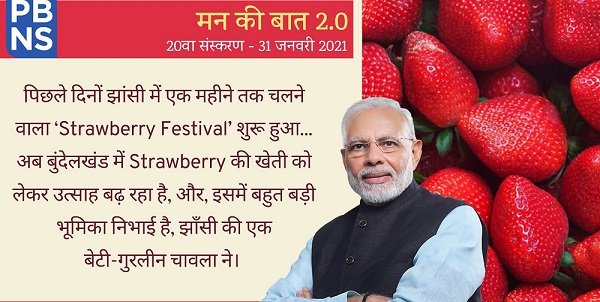 2. She was entitled as the Brand Ambassador of the stay-at-home 'Strawberry Festival' which was held on 16th January 2021 by Uttar Pradesh Chief Minister Yogi Adityanath.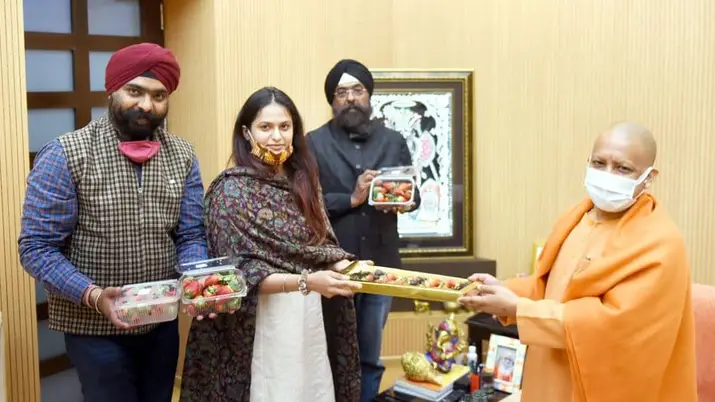 Watch her Story