Plenty is a company that is using technology to revolutionize agriculture, with a focus on sustainable and resilient indoor farms and vertical farming that maximizes yield and quality of fresh produce while preserving natural resources, and they are conducting research at their facility in Laramie, Wyoming, while building advanced farms in Compton, California and near Richmond, Virginia.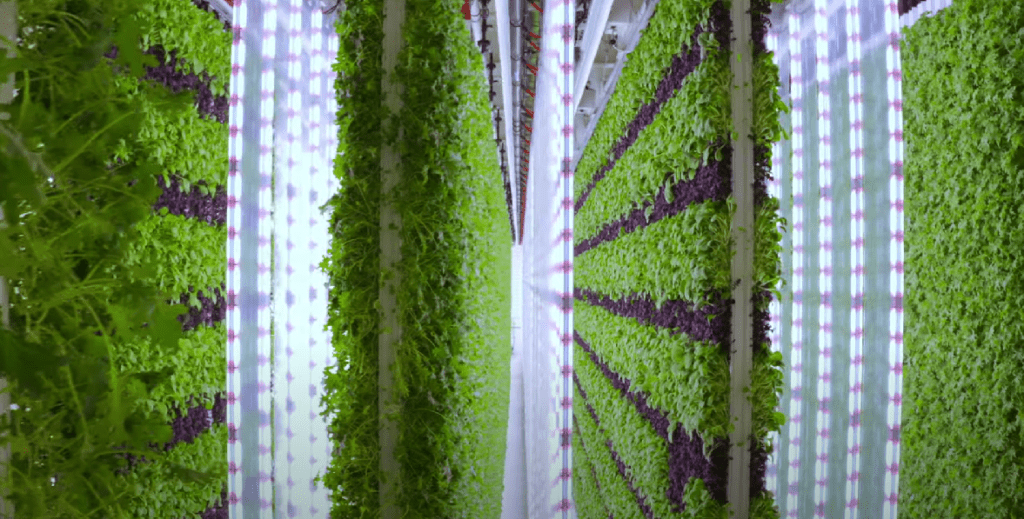 Inside Plenty's $20 Million Vertical Farming Research Center
Plenty Unlimited Inc. has recently announced that it will be building the world's largest and most advanced vertical farming research center in Laramie, Wyoming. The project is being supported by a $20 million grant from the State of Wyoming, which is the largest economic development grant in the state's history. The Laramie Chamber Business Alliance (LCBA) and the City of Laramie are also providing additional funding, land, and support for the project.
Read also: March Issue -Times of Agriculture Magazine on CHC
Why indoor farms are gaining popularity?
Traditional farms and indoor vertical farms differ in many ways. Traditional farms are located outside and rely on natural resources such as sunlight and rainwater to grow crops. They require large amounts of land and are susceptible to pests and weather conditions.
On the other hand, indoor vertical farms are located inside buildings and use artificial lighting and climate control systems to grow crops. They take up less space and can be located in urban areas, making them more accessible to consumers. They also have better control over growing conditions, which allows for year-round crop production and higher crop yields. However, indoor vertical farms require a significant amount of energy to operate and can be expensive to set up and maintain.
Want to read more about Vertical Farming : First Vertical Farming Pioneer of Georgia: Meet the Farmer of the Future
Transforming indoor agriculture:
Arama Kukutai, CEO of Plenty Unlimited Inc. "Creating this new center of excellence greatly expands Plenty's ability to transform indoor agriculture." "We've already built one of the top indoor farming research ecosystems in the world in Wyoming. Our new facility will expand our capability to grow the widest variety of crops, which is key to unlocking the potential of this category and addresses a major limitation for the industry today. This continued commitment to innovation is what's needed to push indoor farming forward and make fresh food accessible to everyone." also added by Arama.
Plenty's State-of-the-Art Research Facility:
The new research center of plenty indoor vertical farms is likely to be a more than 60,000-square-foot facility built on 16 acres of land in the Cirrus Sky Technology park in Laramie, which was contributed to the project by the LCBA. This facility will double Plenty's research space compared to the Laramie facility it has established since 2016, and incorporate areas that more closely mirror Plenty farm environments. It will also diversify its research environments and support the transition of new crops to commercial farms.
Plenty's new research center in Wyoming to transform indoor agriculture and boost local economy
"Wyoming is proud to invest in the continued success of a business that was first innovated right here in the state," said Governor Mark Gordon. "The level at which Plenty will be operating in this new facility will truly advance Wyoming's preeminence as a global center of indoor agricultural research. This center gives us a tremendous opportunity to promote a state-of-the-art R&D cluster and further diversify our state's economy."
"Plenty's R&D Team and Engineers Leads Innovation Efforts for Future of Indoor Farming"
Plenty will leverage its R&D team of over 75 scientists and 100 engineers to lead innovation efforts at its new research center. Within the last two years, Plenty's R&D work resulted in more than 100 new patent filings for advancements in new crop growth systems, plant stress detection, and tomato plant varieties. The company plans to create 125 new jobs at the facility over the next six years, spanning various fields such as science, research, engineering, and data analysis.
Revolutionizing Food for a Sustainable Future
This new research center is a major step in advancing the field of indoor agriculture and making fresh food accessible to everyone. It will accelerate our understanding of the potential of indoor agriculture to contribute to better food security and more opportunities for the local production of food. The facility is set to open in early 2025, and Plenty's team and research work will transfer to the new facility from its current Laramie location once it's completed.
Get to know about plenty
Plenty is a company that is revolutionizing agriculture through its technology platform. With this platform, Plenty can grow fresh produce anywhere in the world, all year round, with the same quality as peak season produce. Their technology can produce up to 350 times more yield per acre than conventional farms. What's more, their unique approach also helps preserve the world's natural resources, makes healthy produce accessible to all communities, and creates resilience in our food systems against pests, weather, climate, and location.
Plenty runs the largest indoor plant science research facility in Laramie, Wyoming, and is currently building the most advanced vertical indoor farm in Compton, California, as well as the world's largest indoor vertical farm campus near Richmond, Virginia. To learn more about Plenty, you can follow them on social media (Twitter, Instagram, Facebook, Linkedin) or visit www.plenty.ag.
Want to join plenty: The Indoor farming revolution
There is not only lettuce and leafy that we can grow indoors and on hydroponics farms. There are lots of veggies that can be produced indoors. Plenty has a whole new innovative approach to the present agriculture and continuously thriving to improve and develop solutions. They are looking for a talent to help the plenty and provide accessible food for all the local population.
If you are interested in pursuing career opportunities and progress your career at the Plenty Laramie research center, please visit www.plenty.ag/careers.
Original Source article:
https://www.businesswire.com/news/home/20230202005383/en/
Read also…