India has suspended wheat exports since May 13, 2022. In a notice published in the Official Gazette, the Directorate General of Foreign Trade (DGFT) justified the ban by explaining that the soaring global wheat prices have put pressure on food security, not only in India, but also in neighbouring and vulnerable countries. However, exports will be allowed on the basis of permission granted by the Government of India to other countries to meet their food security needs and based on the request of those governments.
Why Turkey rejected a Indian Wheat ?
Turkey rejected a shipment carrying more than 56,000 tonnes of Indian Durum wheat on 4th June, 2022.The Turkish authorities claimed that the Indian shipment of wheat was infected with Rubella Virus and due to concerns about the disease, the Turkish Ministry of Agriculture and Forestry refused the shipment.
The durum wheat consignment that Turkey rejected was diverted to Egypt, which was facing a bread shortage after supplies from Russia and Ukraine dried up in the wake of the war, but the Egyptian state also rejected the wheat shipment from India out of concerns over the health of the Egyptian people on 8th June, 2022.
Wheat production in India 2022
Wheat is the 2nd most important cereal crop after rice. It is the main food crop, in north and north-western part of the India. In 2020-21, the total area under this crop was about 31.61 Mha (14% of global area) with production of 109.52 MT (13.64% of global production) with a record average productivity of 3464 kg/ha in the country. Wheat productivity of India increased from 1306.60 kg/ha in 1971 to 3464 kg/ha in 2020, growing at an average annual rate of 2.17%.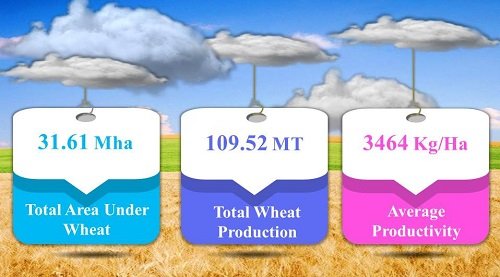 Leading state in Wheat production in India 2022 ?
Leading wheat producing states in India in 2022 are Uttar Pradesh, Punjab, Haryana, Madhya Pradesh, Rajasthan, Bihar, Gujarat, Maharashtra and West Bengal.
India's wheat production in the 2021-22 crop seasons ending in June is officially projected to be around 106.41 million tonnes.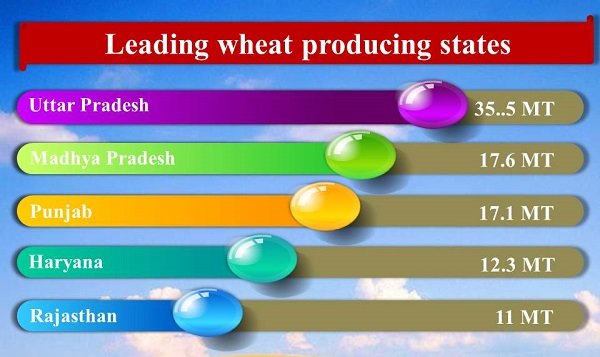 The amount is 3.8 million tonnes less than last year's output and 4.41 per cent lower than the previous estimate of 109.8 million tonnes, as heat waves at the growth stage of the crop crimped production. India is the 2nd largest wheat producer in the world after China. But it accounts for less than 1% of the world's wheat trade. It keeps most of it to provide subsidized food to the poor. Its main export markets are Bangladesh, Nepal and Sri Lanka, as well as the United Arab Emirates (UAE).
Status of Wheat Export of India 2022
The top ten Indian wheat importing countries for 2020-21 are Bangladesh, Nepal, United Arab Emirates, Sri Lanka, Yemen, Afghanistan, Qatar, Indonesia, Oman and Malaysia according to the data from Directorate General of Commercial Intelligence and Statistics.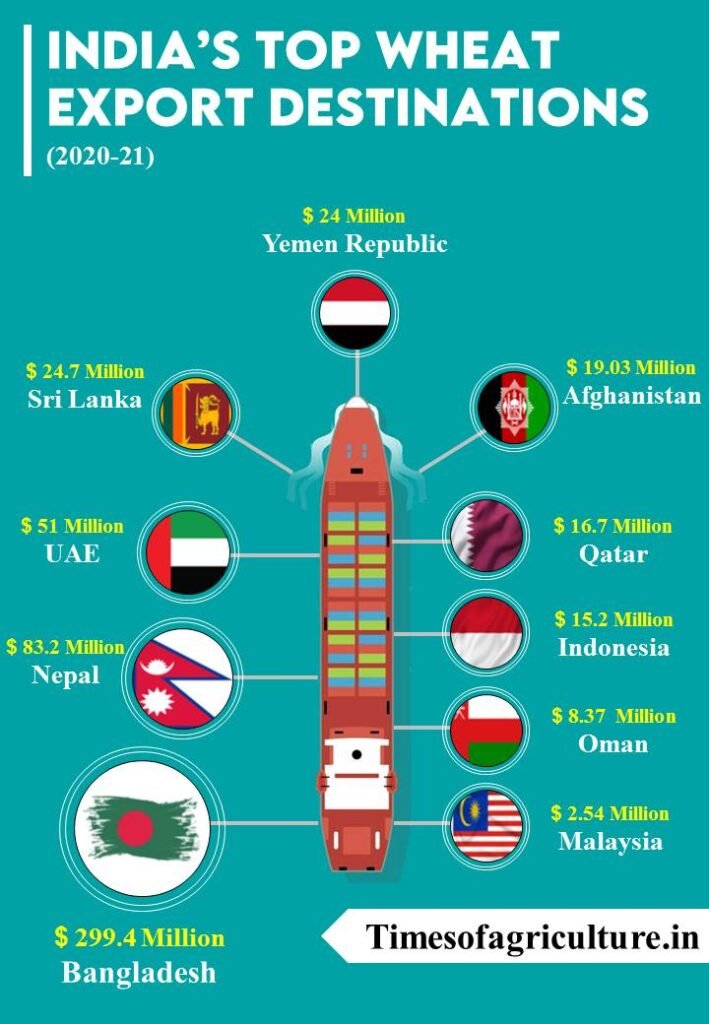 India's top ten wheat export destinations
Bangladesh, Nepal, UAE, Sri Lanka, Yemen Republic, Afghanistan, Qatar, Indonesia, Oman, Malaysia
| | | | | |
| --- | --- | --- | --- | --- |
| Country | Quantity (in tonnes) | Value (US$ million) | Share % in volume | Share % in value |
| Bangladesh | 1157399.35 | 299.4 | 55.4 | 54.5 |
| Nepal | 330707.74 | 83.23 | 15.8 | 15.1 |
| UAE | 187949.46 | 51 | 9.0 | 9.3 |
| Sri Lanka | 94039.63 | 24.73 | 4.5 | 4.5 |
| Yemen Republic | 86000 | 24.05 | 4.1 | 4.4 |
| Afghanistan | 55584 | 19.03 | 2.7 | 3.5 |
| Qatar | 63452.87 | 16.75 | 3.0 | 3.0 |
| Indonesia | 56051 | 15.29 | 2.7 | 2.8 |
| Oman | 30179.33 | 8.37 | 1.4 | 1.5 |
| Malaysia | 9509.33 | 2.54 | 0.5 | 0.5 |
| Total (Top 10 countries) | 2070873 | 544 | 99 | 99 |
| Total Exports | 2,088,488 | 550 | 100 | 100 |
Source: Directorate General of Commercial Intelligence and Statistics (DGCIS).
Reasons for Banning of Export of Wheat
This suspension on export of wheat and flour from grain originating in India is basically an assurance that whatever it imports will be used only for domestic consumption.
Effect of Heat Wave and Shortage of Stock: The ban has also led to a reduction in wheat production, after its output was affected by the heat wave that swept across the country during March-April, while the Food Corporation of India (FCI) was not able to collect enough reserves for buffer stocks.
Rising Prices due to Russo-Ukrainian War: Domestic wheat prices began to rise due to export demand caused by the Russo-Ukrainian war and high inflation. Soaring world wheat prices could hit Indian consumers and fertilizer prices have more than tripled since the outbreak of the Russo-Ukrainian war. This will likely lead to a reduction in global wheat acreage and, as a result, the tight supply situation could continue up to 2023.
Increasing Inflation: Rising inflation also spurred this step. The Wholesale Price Index (WPI) in India has moved up from 2.26% in early 2022 to 14.55 today. Retail price inflation also hit an eight-year high of 7.79% in April, driven by rising food and fuel prices.
Impact of India's Ban on Wheat Export
Impact on India
The impact of the wheat export ban on India's domestic food inflation is expected to fade away. This export ban is a precautionary measure and could prevent local wheat prices from rising significantly. However, with domestic wheat production likely to be constrained by the heat wave, local wheat prices may not drop significantly.
Impact on the World
The war between Ukraine and Russia has led to a decline in wheat production in the region known as the world's breadbasket. Russia and Ukraine together account for 25% of world wheat exports. This has led to higher wheat prices and supply problems. India is the world's second largest wheat producer and one of the largest consumers. When the government decided to ban wheat exports in the face of rising prices, there was much opposition from the international community.
          In Asia, with the exception of Australia and India, most other economies depend on imported wheat for domestic consumption and are threatened by rising global wheat prices, even if they do not import directly from India. This recent export ban will raise prices worldwide and hurt poor consumers in Africa and Asia.
Read More Article
To read more about wheat production scenario and other informative article download our July issue of Times of agriculture magazine.