Drones in Agriculture in India – Agriculture is still the chief source of income for the majority of households. Technologies are being used in almost all sectors but the agriculture sector is still far behind in technological advancements. The agriculture sector has many risks due to unpredictable weather and uncontrolled Insect-pest, dependent on monsoon rains for irrigation, and the use of age-old methods for farming practices.
There is hope, a technology is there in agriculture which can detect crop failure in advance, helps in spraying pesticides and insecticides, water irrigation, and many more. Drones in Agriculture in India can tackle the problems of the agriculture sector. let's see how it works in this blog post.
About Drones in Agriculture
Drones, also known as unmanned aerial vehicles (UAV) are nowadays used for many agricultural purposes. It helps in collecting data, scanning fields, detecting insect pests and diseases, helps in spraying insecticides, and also irrigation. The use of the device is extending very fast in the agriculture sector.
This device is controlled by a pilot remotely. The size and shape of the drones depend on the type of service they offer. This is available in different masses i.e. 2kg, 25 kg, and 150 kg.
How does drone technology work?
Drones work on various systems, they are:-
Navigation system
GPS system
Multiple sensors
High-quality cameras
Programmable controllers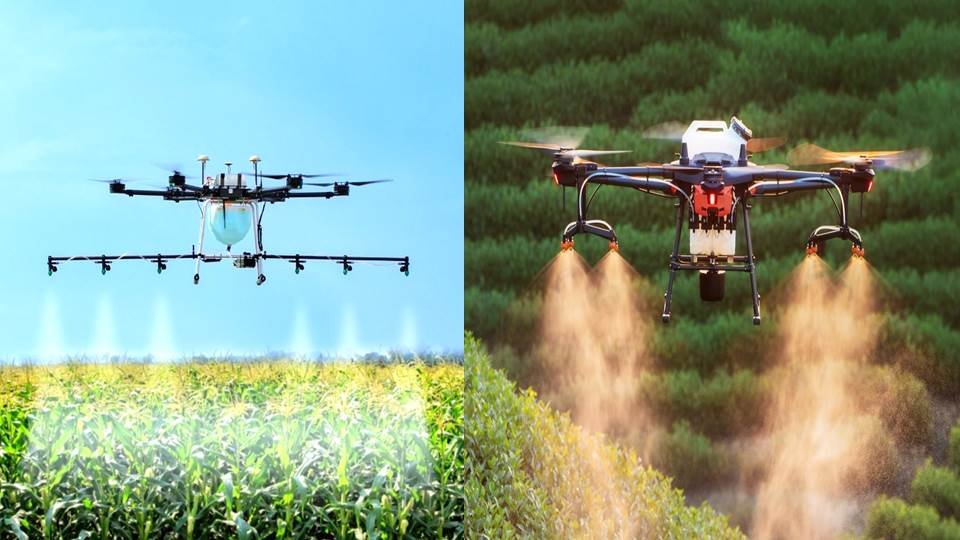 Let's see how actually they work in agriculture
Various steps are involved in working on this drone
Step 1:- Analysis of crop area – Farmers need to establish a boundary or area where the complete analysis will occur through GPS information.
Step 2:- Using autonomous drones – They can enter the flight location and patterns in their system for capturing data and analyzing them.
Step 3:- Data uploading – drones are self-reliant in collecting required data or information through their multispectral sensor/RGB sensors.
Step 4;- simplifying the output – after the collection of data, the technology helps format it so farmers or end users can easily interpret or analyze it. 3D mapping or photogrammetry are a few popular ways to display collected data.
Read More –Kisan Drone : Advantages, Cost, Subsidy, Companies
Application of drones in agriculture in India
Drones can do crop monitoring, agriculture mapping, land photogrammetry, auditing, and gathering of data as they have micro cameras.
It helps in the scanning of fields and in spraying fertilizers at the affected area only.
It can be used for security and surveillance systems.
Precision farming drones can detect unpredictable environments.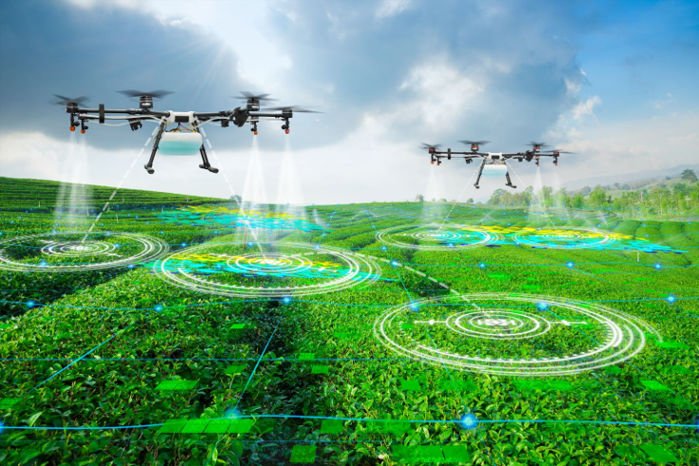 Features of agriculture drones
It occurs in compact size. So, it's very easy to carry or handle.
It contains micro cameras that can perceive objects and their movements.
It can read the location data with the help of global positioning systems (GPS).
If their battery gets low or communication is lost then it will fly back to its original position.
The pilot can control the device through a ground control station (GCS) by using a laptop or tablet.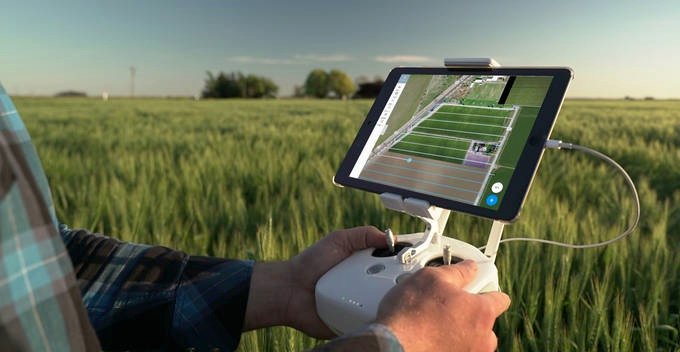 Advantages of drones in agriculture
It helps in increasing yields.
Better time management
Returns on investment will be high
Easy to handle
Helps in integrated mapping
Imaging the crop health ( whether it is diseased or diseased-free)
They can fly back if any problem occurs in it.
It can check the weather and can scan the fields.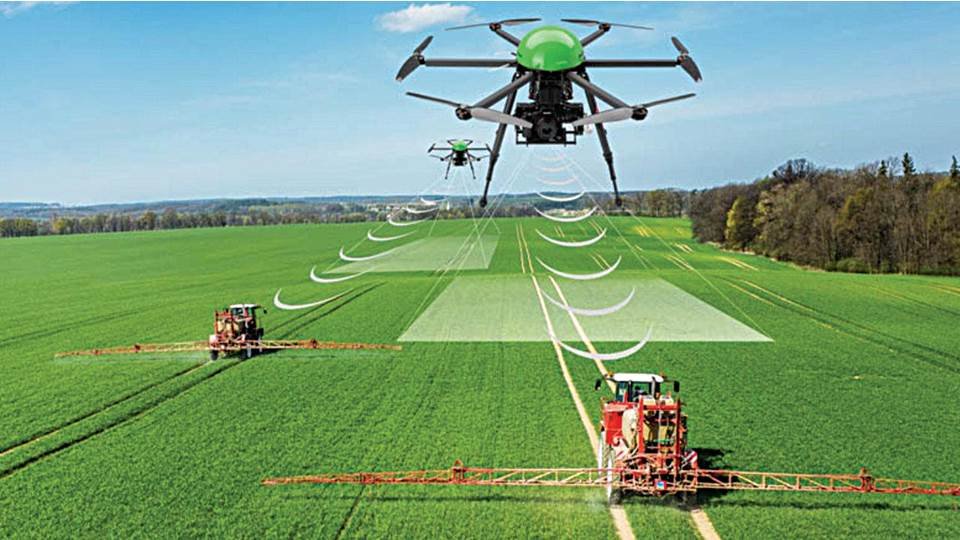 The negative impact of agri drones
The cost of purchase is high.
There are various laws for using this technology.
Air space interference is one of the problems.
Connectivity issues are there.
It depends on the weather as it works on GPS, bad weather can't give appropriate information.
It requires the ability and skill to use this tool.
Agriculture drone price in India
Agriculture drone price is between 3 lahks to 11.5 lahks depending on its water holding capacity. Also, the price of drones depends on their brands, feature, functions, and weight.
| | |
| --- | --- |
| Price of Agriculture Drone | 3.5 lakhs to 11.5 lakhs |
| Water holding capacity | 10 l |
| Material | Carbon fibre |
| Capacity | 16000 MAH |
| Aircraft weight | 3kg |
| Flying range | 1-2.2 km |
| Frequency range | 2.400- 2.474 GHz |
| Obstacle sensing | 3- 96 feet |
| Battery life | 2 hr |
| Hourly operation efficiency | 10-15 min |
Agriculture drone scheme
Some organizations are set up by the cooperative society of farmers, and rural entrepreneurs, and FPOs are there to provide financial aid and support to help in purchasing drones for agriculture.
For Farmer Producers Organizations (FPOs) and rural entrepreneurs, 40% of the basic cost of a drone or up to Rs.4 lakhs.
FPOs (farmer's producer's organization) If drones are used only for demonstration purposes FPOs would be eligible to receive a subsidy of 75% of the cost of the drone.
Government grants Rs. 6000/hectare for agencies that don't want to buy drones but want to hire them.
40 % of the basic cost of the drone and its attachments or Rs. 4 lakhs should be available as financial assistance for drone purchase by hiring centers.
Union Kisan Pushpak is a new scheme for financing drones for agriculture purposes under custom hiring activity/own agriculture purposes.
For Agriculture graduates establishing Custom Hiring Centers (CHCs), gives 50% of the basic cost of a drone or up to Rs.5 lakhs.
For Farm Machinery Training and Testing Institutes, Indian Council of Agricultural Research (ICAR) institutes, Krishi Vigyan Kendras, and State Agriculture Universities, A grant of up to 100% of the cost of an agriculture drone or Rs.10 lakhs
Agriculture Drone Companies in India
In India many companies manufacture different types of drones, some of them are the following:-
Conclusion
Drone technology is one of the greatest inventions in the agriculture sector. This can be used for multipurpose. Although its price is high, due to various schemes anyone can afford it. This technology helps in the growth and development of the agriculture sector.
Latest Post