Croptimus™ by Fermata an A.I. Based precision tool for agriculture distributed by Cultivatd is used to detect Diseases & Insects which helps in reducing time and effort of the grower.
As the global population increases rapidly there are major concerns for food security. Though we are doing agriculture for ages, the farmers are posing the threat of pests and diseases damaging the quality and quantity of the crops.
Through the decades of the green revolution, we have increased the production of crops through the use of chemical pesticides and fertilizers. However, growers are still facing the threat of the devastating effects of pests and diseases. As technology has evolved and news tools come in handy to ease up the agriculture operations for the farmers and increase their yields by mitigating crop losses. These new precision tools especially (artificial intelligence) are acting as a new weapon for the growers: precision agriculture and digital agriculture.
Few croptimus testimonials of the tool:
"As a former head of R&D at Biobest in Israel, I've seen a lot of pest and disease solutions come and go, but Fermata's has changed how I currently work as a crop consultant. Instead of wasting time identifying the source of the problem, now I can focus on mitigation, and finding the root causes — saving my clients both substantial time and money."
Guy Gafni — Crop Consultant, Agronomist, Entomologist, IPM Expert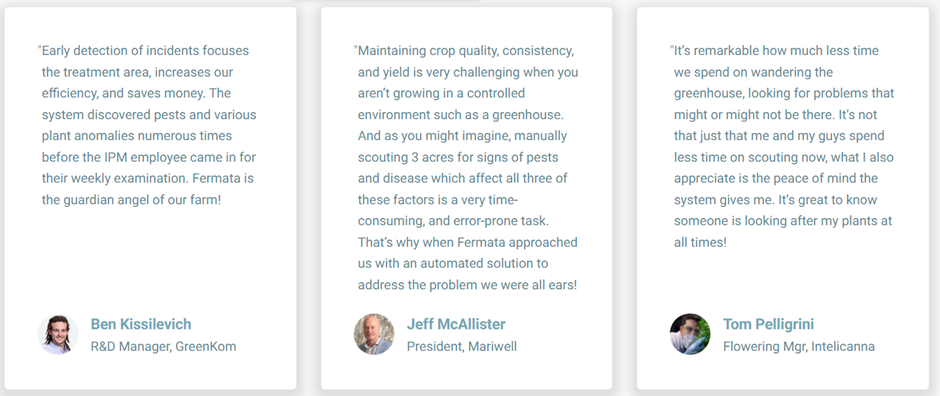 Source: Fermata.com
What is Croptimus?
Croptimus™ utilizes Ai and computer vision to precisely detect, and identify & diseases across various crops which include vegetables like tomatoes, capsicum, leafy greens, and medicinal plants. This croptimus helps in the early detection of the insect or disease incidence before they become a serious impact on the quality and quantity of the yield. This is a great value product that Fermata has offered for the growers like a greenhouse and indoor farm growers.
"Identifying and stopping pests and disease before experiencing crop loss is a constant challenge for indoor farm operators," Eric Levesque, Managing Partner at Cultivatd explained, "To help growers address the threat, Fermata's advanced, 24/7, precise plant monitoring system discovers areas-of-concern well in advance of farm staff's scouting efforts. By working to save labor costs, as well as improve crop quality, consistency, and yield, Fermata makes our clients' lives easier and their companies more profitable."
Fermata is focused on innovative computer vision solutions for the development of sustainability for precise crop monitoring.
Fermat's croptimus provides up to 25 % savings on farm inputs .such as
Pesticides
Beneficial insects
Associated labor
Energy consumption.
What's so special about croptimus?
The platform is designed and developed is easy to use, and doesn't hinder agricultural operations the best part is it can be installed within hours. The Croptimus™ platform also features 360º views and watches over your crop, so you don't have to scout and waste your precious time. Using advanced machine learning our computer vision finds pests and diseases in advance of human scouts which ultimately saves both the time and money of the growers.
Further, Croptimus™ is improving regularly through advanced machine learning and is researched and maintained by a team of integrated pest management (IPM). these researchers and scientists audit the developments and results to ensure accuracy and do necessary changes in the algorithms of the AI according to the farm situations.
How the pests and diseases detected?
These are installed where they are necessary and specific issues are to be found. So that it covers the area over 360 view angle of the canopy. Integrated heat maps detect the incidence of pests and diseases over time. This allows the growers to monitor their crops for persistent issues which may indicate problems within their facilities.
"Fermata Founder, Valeria Kogan Inducted into Forbes 30 Under 30."
Some of the competitive advantages of the Croptimus?
Though they are a lot of competitors in the marketplace. the croptimus has significantly few advantageous offerings over the others with similar functionality.
Price range: significantly lower price range and structure.
No upfront costs: There is a simple subscription model just like any OTP platform.
No expensive robots: No expensive rail-based systems or robots.
Time savings: work is done in days, instead of months.
No disruption: Especially installation does not require disruption to your business.
About Fermata
Fermata focuses on the use of data science and computer vision solutions to commercial agriculture difficulties. Fermata, which has been doing considerable research since its foundation in 2019, has now created an adaptive computer vision platform meant to automatically detect diseases and pests in their early stages. This early detection tool enables producers to successfully eliminate these risks well before crop loss becomes imminent, reducing the amount of time and money spent on traditional scouting even more.
About Cultivatd
Cultivatd is an AgTech brokerage firm that assesses demands and recommends the best solution for a client's budget, growing kind, location, and knowledge based on years of experience in the indoor farming business.
The firm provides Farming-as-a-Service (FaaS), in which farmers are deployed to your location, general consulting services through a global network of vertical farming professionals, and capital backing. Cultivatd assists customers in entering the vertical farming industry by assisting them through the process of determining the best technological solution for their specific needs. https://cultivatd.com/
Read also…